It lives!
After nearly three months off the road (sitting on a lift at my local dealer) my beloved W8 is now back on the road.
On the morning of September 27th 2012, as I was backing out of my driveway dialing my phone to call the local VW dealership to have my oil changed at 105k and get my drivers' door lock mechanism fixed when my MIL came on. What timing! I had an eerie feeling I already knew what the issue was going to be…..
The next day (9/28/2012) I dropped the car off at my local dealer for the oil change, door lock and MIL diagnostics. The dealer called me back late Friday morning and confirmed my suspicions:
P0011 - Found A Camshaft Position Bank timing over advance fault
Now my car is still covered under VW Real Driver Platinum Warranty backed by Fidelity Warranty Services (FWS). I had made previous claims before for minor items and never had an issue getting items covered in the past.
The dealer initiated contact with FWS on my behalf, who requested that the right engine valve cover be removed to check for "Oil Sludge" as they would not warranty the repair if that had occurred and had caused the issue. The dealer called to tell me that I had to approve $500 in order for them to remove the valve cover of the engine so that the warranty company could send out an adjuster to check for sludge. My service advisor at the dealer told me no to worry that this was standard procedure and that FWS should pick up the tab for this work so far and that as long as I had my oil changed, he doubted there would be a sludge issue. I also have been changing my oil every 5k, so I was pretty sure not oil sludge would be found. So I authorized the tear-down. The VW tech found that "oil sledge" was not the cause of the issue and the FWS adjuster who came on-site a few days later upon inspecting the engine agreed.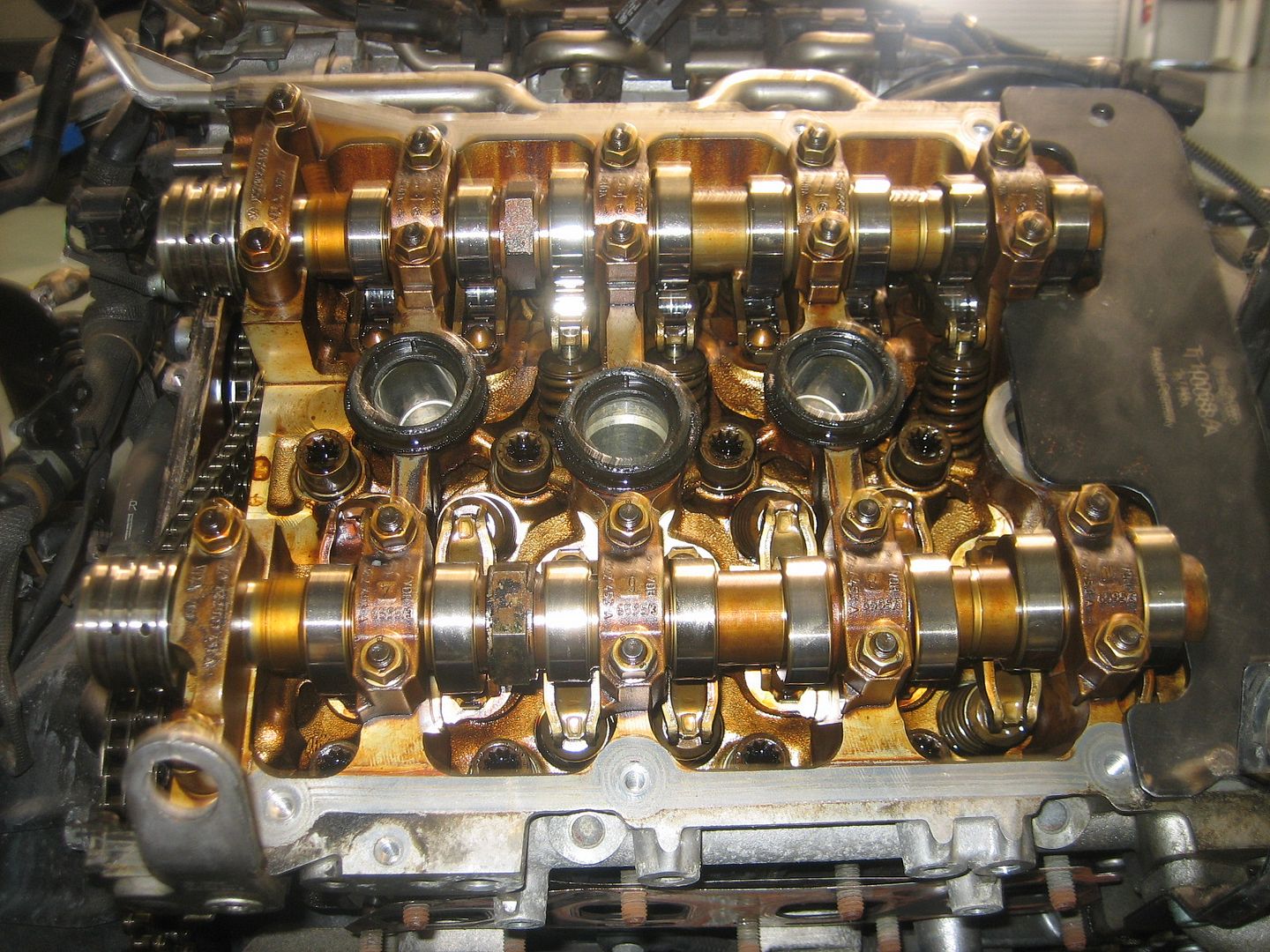 FWS then requested that the engine be removed from the car to gain access to the actual part that was at fault according to the diagnostic code pulled from the OBDII port. Upon leaning this, the dealer once again phoned me to approve engine removal from the vehicle to gain access to the part that FWS wanted to see for an additional potential cost of $2000.
The engine was removed from the vehicle and the part was removed and found to be defective. It was determined by the VW tech that there was a missing "screen" on the Cam Adjuster and it could not be located. The dealer once again phoned FWS and told them what they had found and FWS wanted to send another adjuster out to look at the issue. Presumably the screen was stuck somewhere inside the engine and that the engine could not be repaired but had to be replaced. A "used" engine was deemed not reliable as this is apparently a common issue with W8 engines (no kidding) and they did not want to have the issue return if a "used" engine was installed.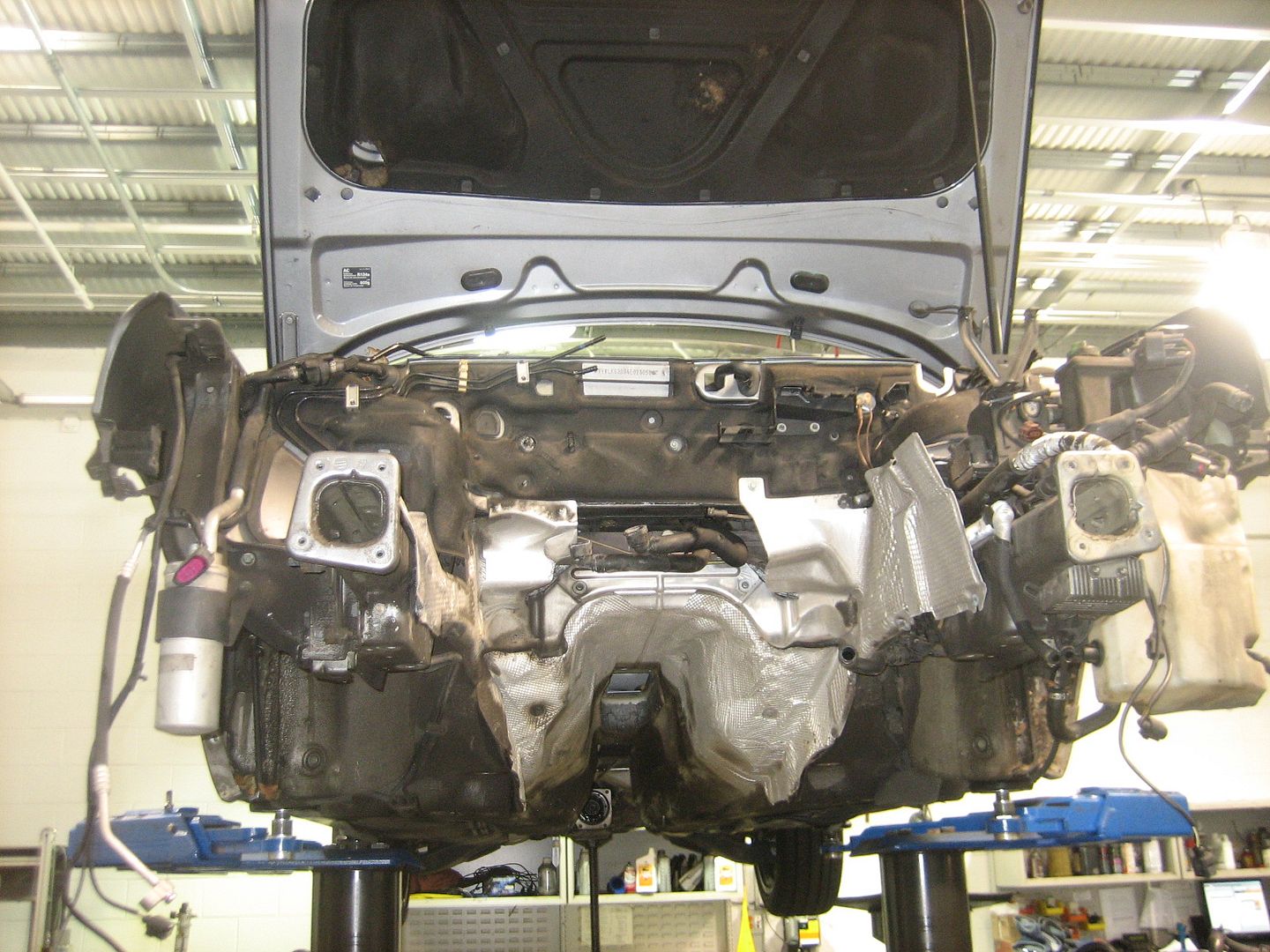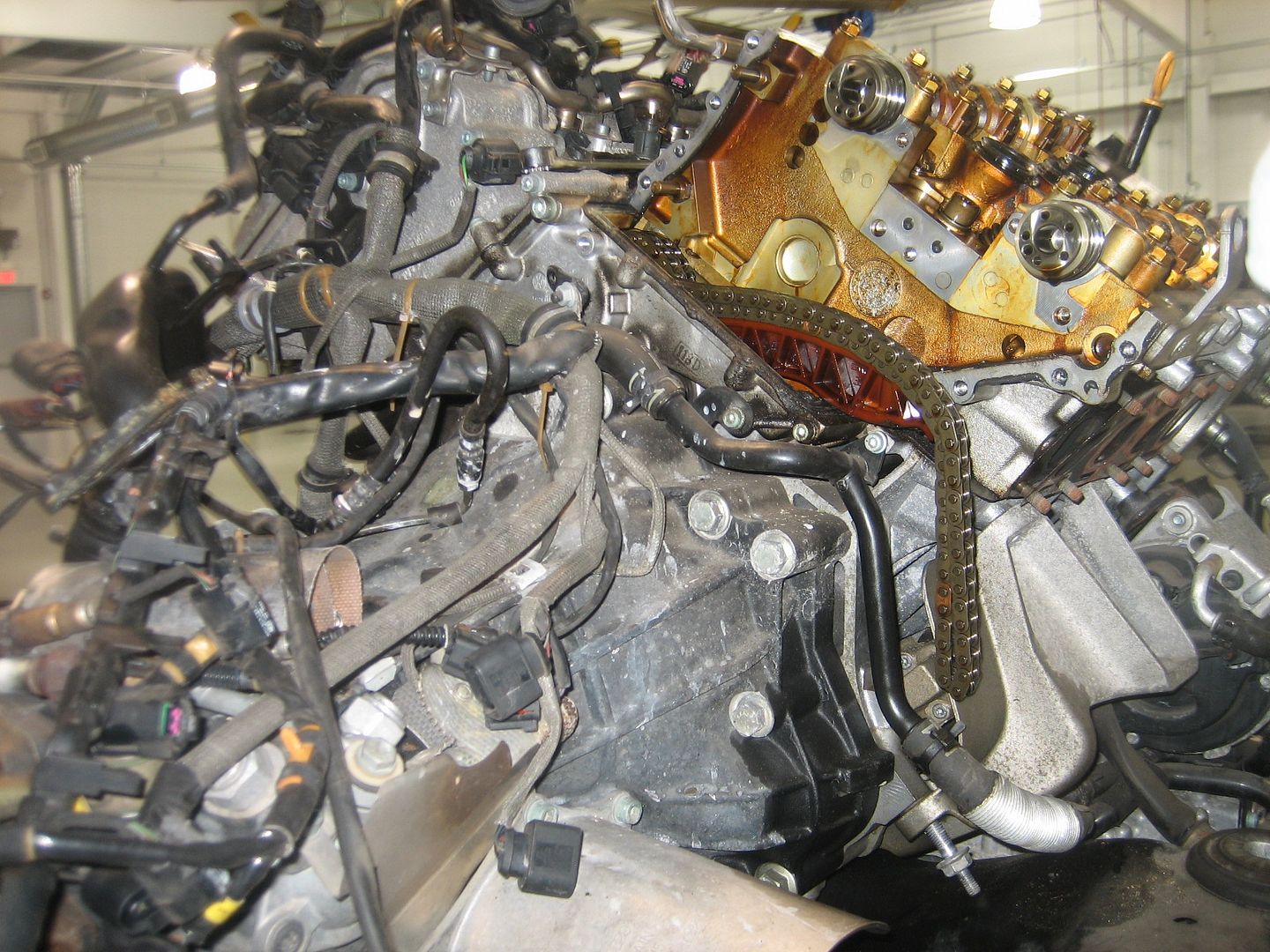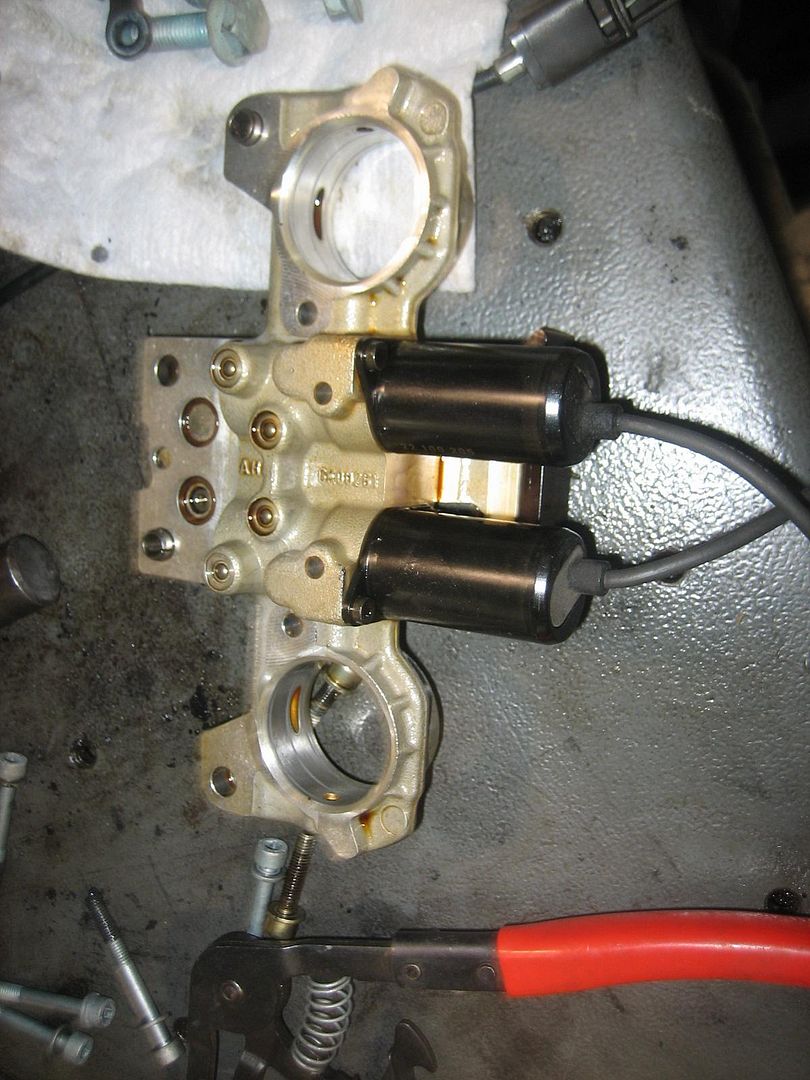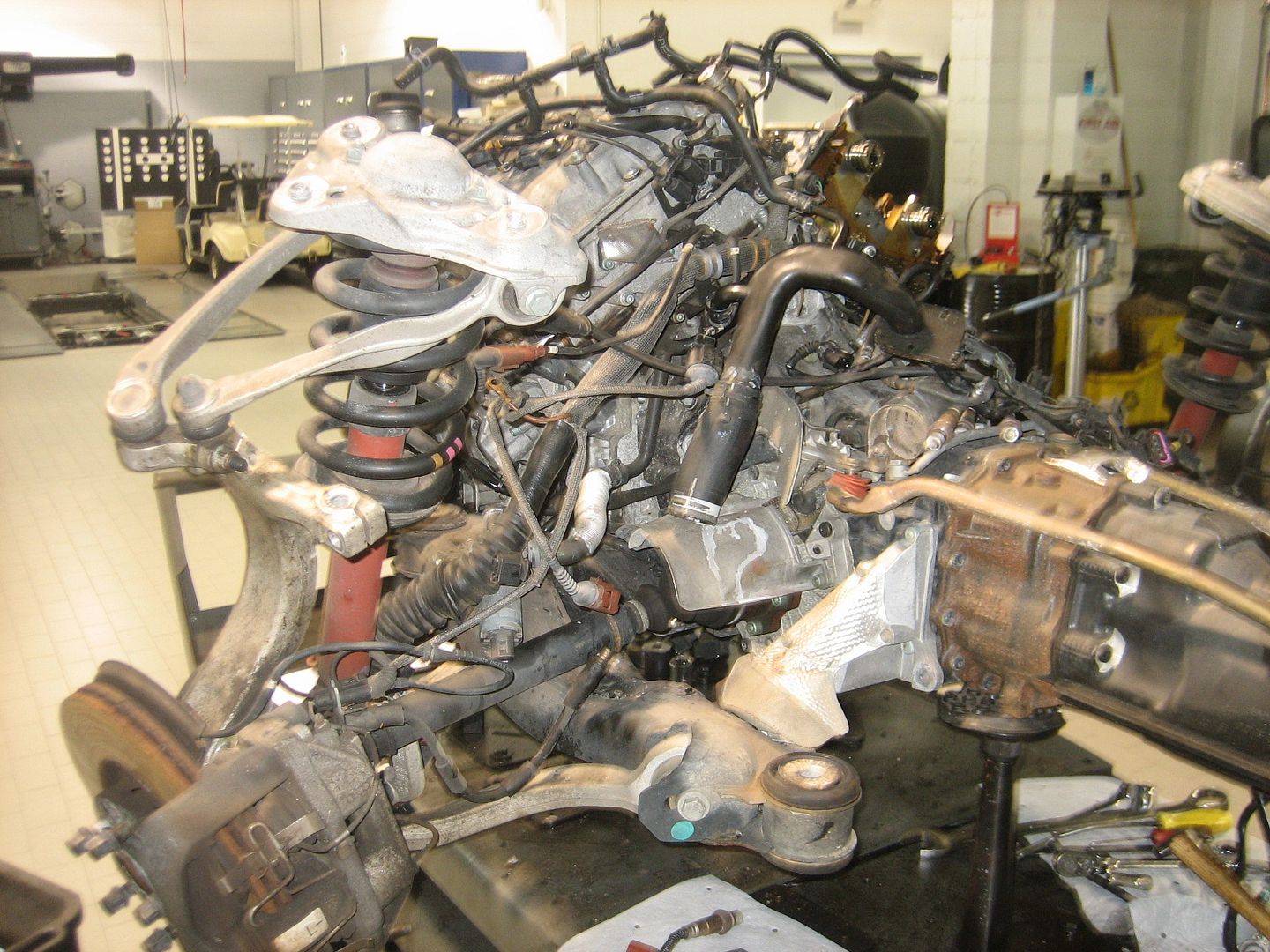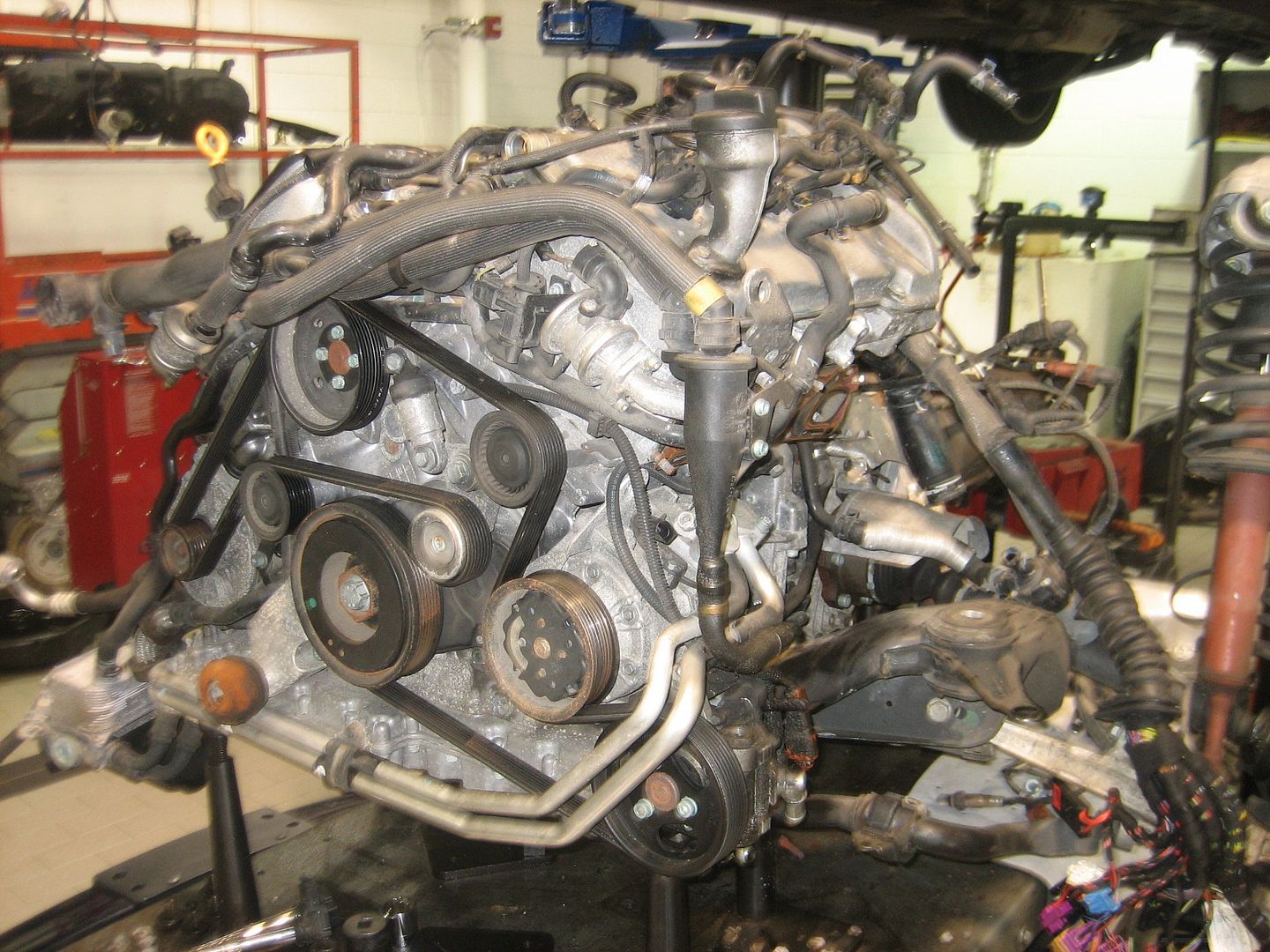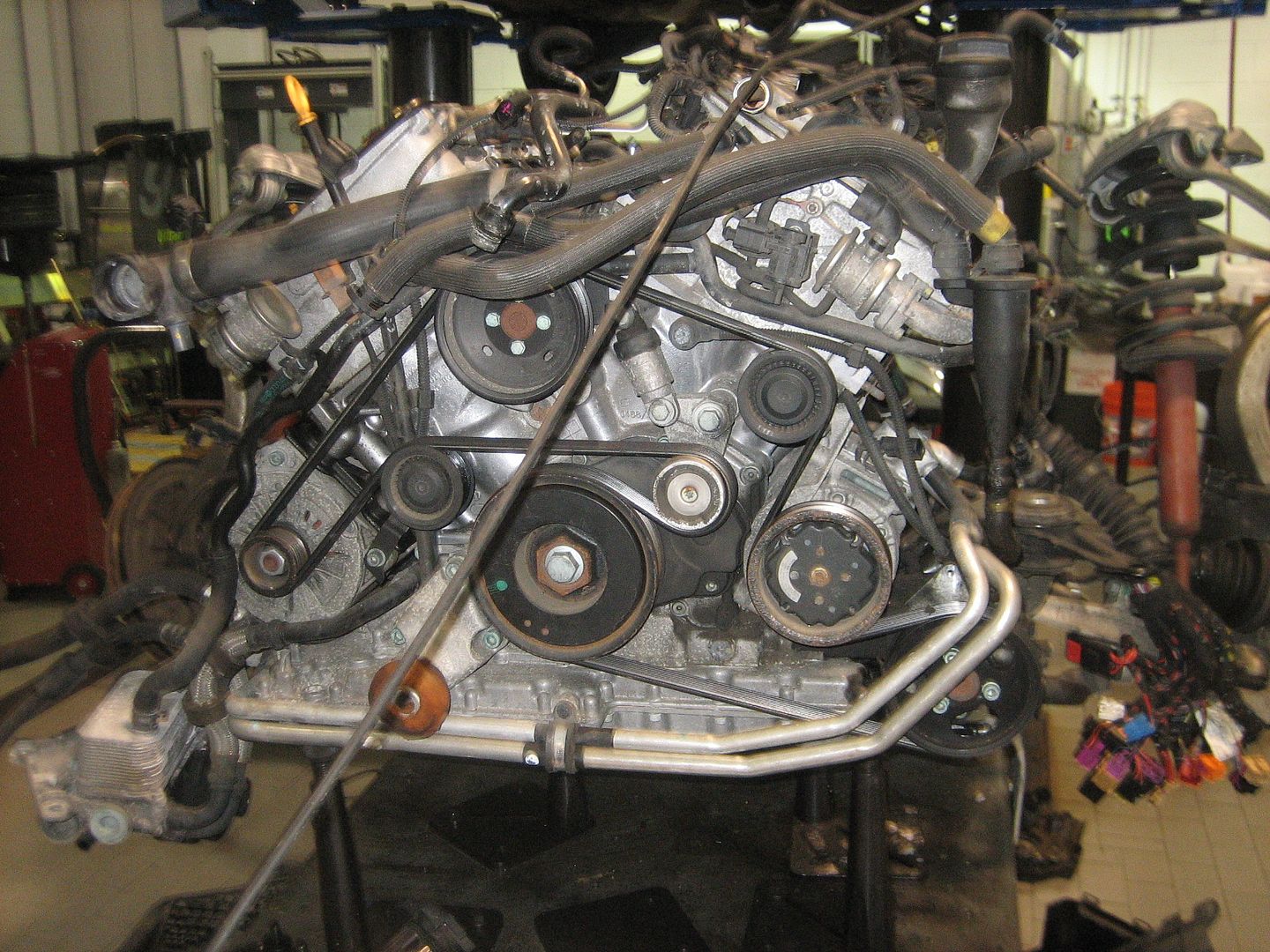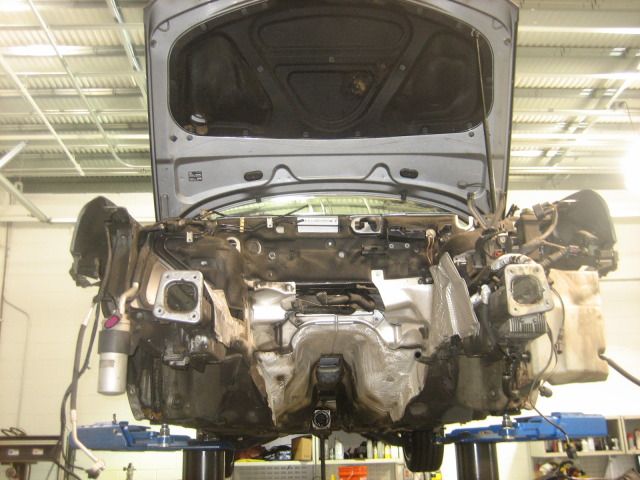 Exhaust if anyone wanted a good look: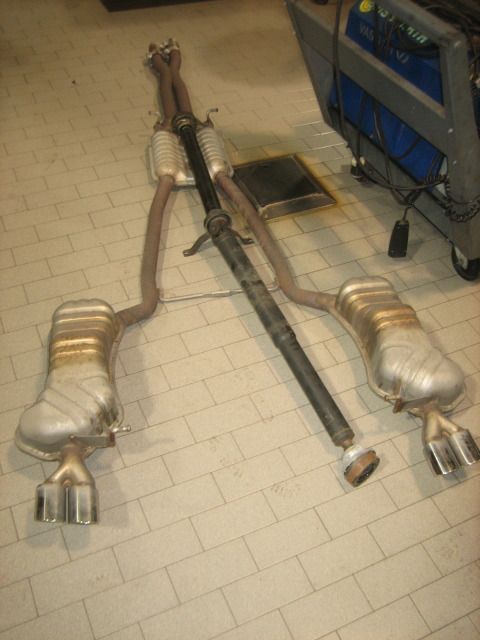 So I now get a call from the dealer telling me all this. They also give me good news that FWS has approved the repair however only up to $9012 (the cash value that FWS determined the vehicle was worth before the issue occurred). VW informed me of this information; however they also stated that the total repair was in excess of the $9012 for a total of an estimated $15,100. The breakdown as follows: 12.500 for the engine, and $2600 for labor and misc. parts/gaskets/fluids plus tax. I was responsible for the difference, $6088. Basically if I wanted to be able to file a claim with FWS, a new engine was the only approved repair option given to me. If I did not wish to file a warranty claim for the suggested repair, I am still responsible for paying an estimated $2300 in labor to have the car put back together in the condition that I brought it into VW and released back to me or I was given the option of trading my car in on a new vehicle where is was implied that I would be given $2300 for my non-drivable trade-in. The other option was to attempt to have the engine repaired after first locating the missing screen all the while picking up the tab in full without utilizing my extended warranty through FWS. This option according to the dealer would amount to an extensive amount of labor presumably more than the cost of a used engine that I could have installed.
I took a few days to think about my options, I really do love this car, and as a car guy, I hated seeing such a rare car get thrown away, but spending 6k on a car with 105k worth 11k on a good day was not a wise decision. I then called the dealer back and asked if they could do any better on the price of the engine. After yet another day or so, they call me back and told me they would sell me the engine for 11k saving my $1500. Given this new info, I decided to start looking for a "new" W8 engine from other sources other than the dealer.
After searching the internet, I located a supplier that claimed to have a brand new W8 engine in a crate as it came from VWoA originally for the bargain price of $6750 shipped to my door plus a $500 core charge (I am well aware the VWoA blew these engines out the door for $4100 back in 2009, guess I should have bought one.) I called the dealer with the info and they said that they would be happy to install that engine in the car however; they said that FWS would have to approve the use of a non WVoA supplied engine. It asked them what difference it makes where the engine comes from. It's new right? Obviously I was going to try and pursue this engine as it would cost me significantly less in out of pocket expenses. My search for a used W8 engine did not turn anything up.
I called FWS on 10/19/2012 to inquire about purchasing the non VWoA supplied engine to see if they would reimburse me or the dealer if they purchased it on my behalf. Their representative, Mike, was not 100% certain but hinted that they do buy engines from suppliers in certain circumstances and that this should not be an issue, but said he would double check with his manager on Monday (10/22/2012) morning. I did not receive a call in the morning, so I contacted FWS again, this time I spoke to a representative named Sean. He stated that FWS would not authorize the engine to be purchased from an outside supplier; only engines from VWoA according to their contract with VWoA can be used for repairs. The only special exception would be if my local dealer was unable to locate a new replacement engine, and Sean said they have never had that happen. (Note: According to my dealer, only one new W8 engine is available at this time in North America from VWoA)
I do not see why FWS could not either purchase the same engine from the supplier I located on my behalf, have my dealer purchase it on my behalf or reimburse me for the cost of the engine if I purchased it from the supplier directly. I could not locate this clause in my stating that the engine needed to be purchased from VWoA directly by the dealer in the contract and was wondering if I had any recourse in going with any of the three options I outlined.
On 10/24/2012, I contact my attorney to review my warranty document to see if FWS had any reason not to allow me to use the engine that I located. On the morning of 10/26/2012 my attorney verified that the contract did not state that any parts had to be purchased from VWoA, only that the parts used to repair the car had to be genuine OEM VW parts. With this new info I was all set to call FWS.
Three minutes after getting of the phone with my attorney, Mike form FWS called and told me that FWS would allow the use of the non VWoA supplied engine as long as the supplier would provide a 12 Month/12k Mile warranty (which I already verified they would). FWS also stated that the dealer would be allowed to buy the engine on my behalf, so no out of pocket expenses for me to have the dealer purchase the engine. :)
I then contacted the dealer with the new info, they seemed shocked that I went through all this, but nevertheless, they said they would reach out to FWS to confirm what I had just told them. I went ahead and gave them the contact info and pricing of the engine supplier. On 11/9/2012 the dealer calls and tells me the engine has been ordered. Expected delivery is 11/19/2012. Due to Hurricane Sandy the shipment was delayed and the engine arrived at the dealer on 11/26/2012.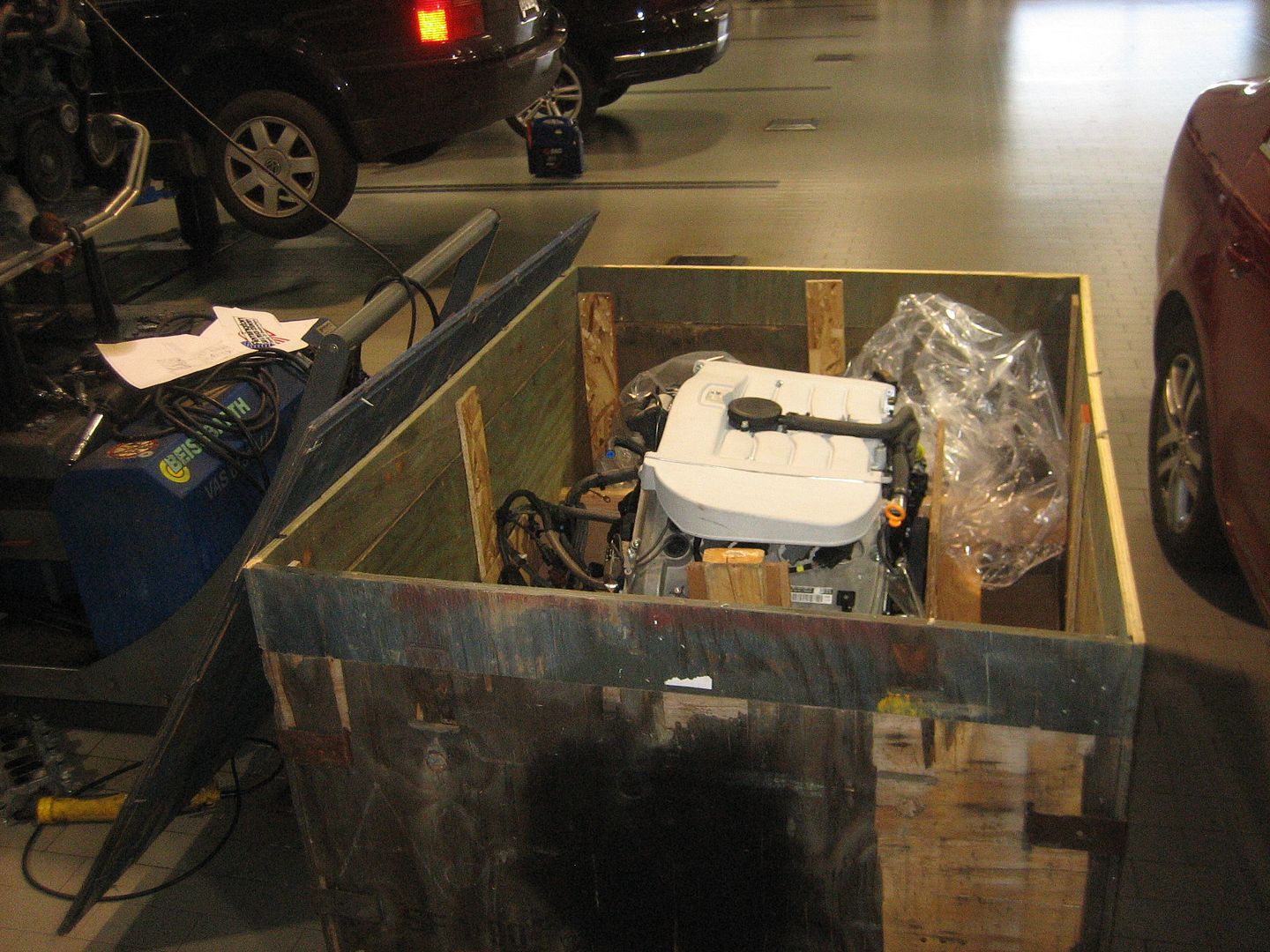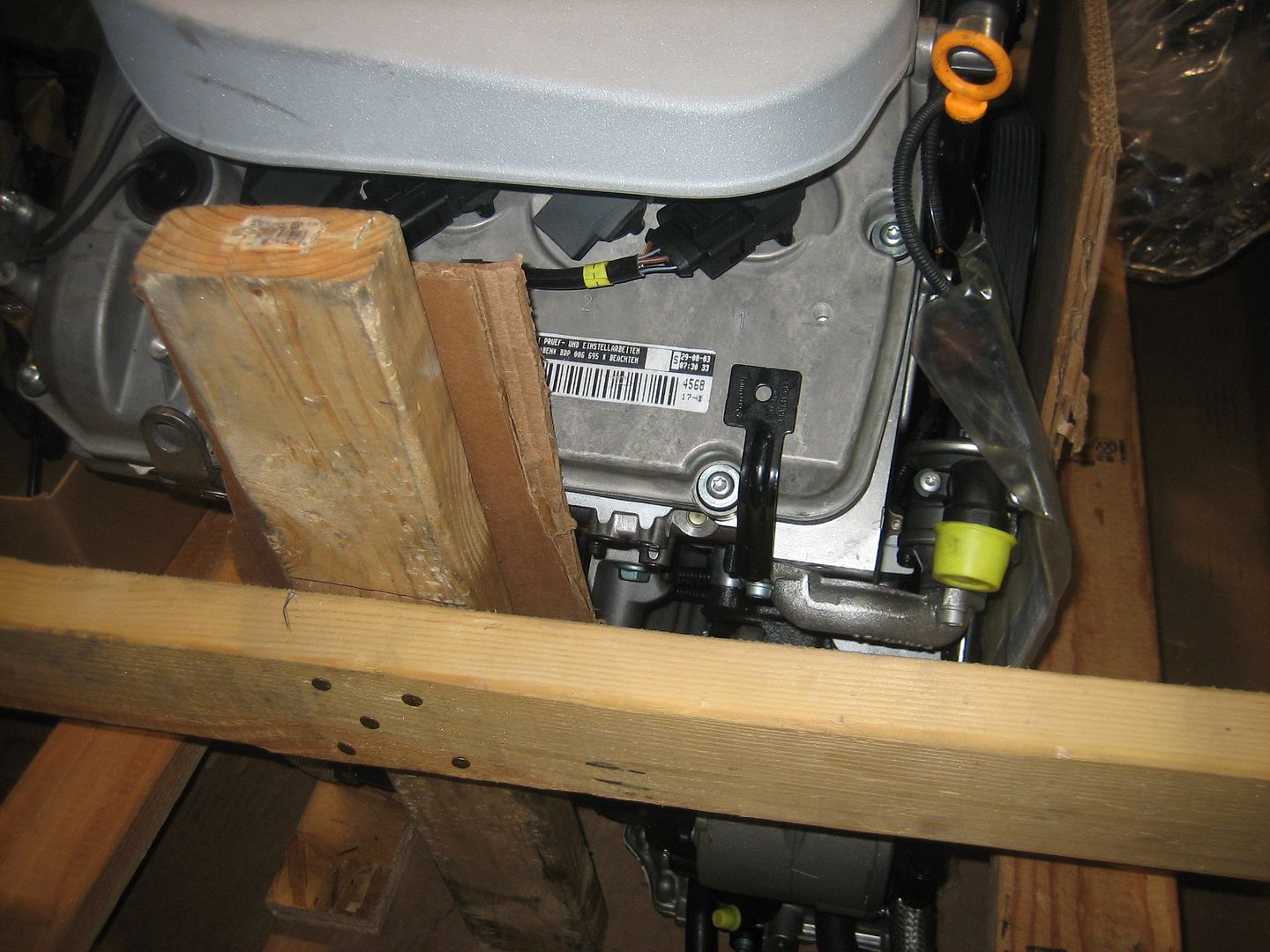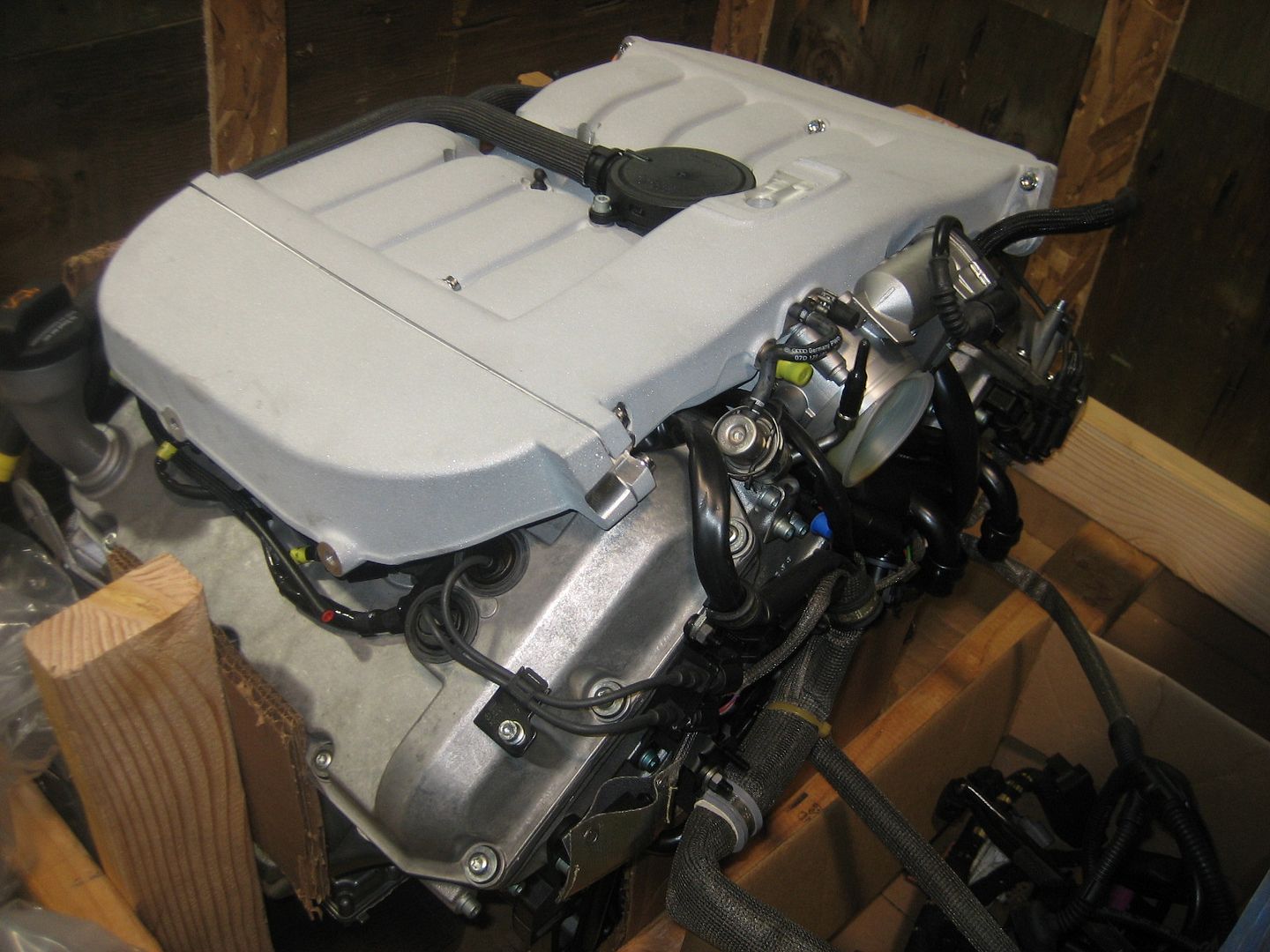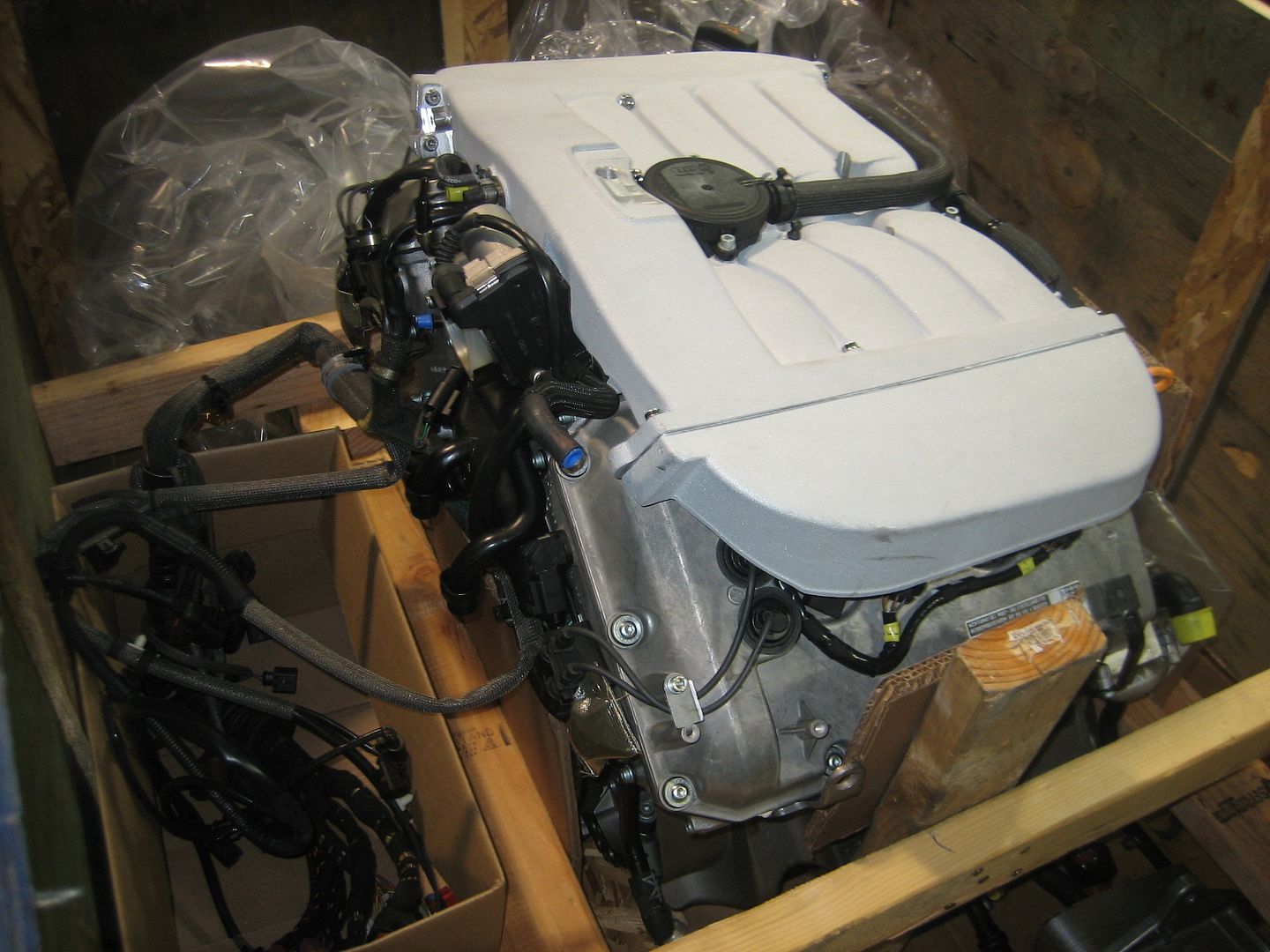 New engine next to old one:
Now that the dealer had the engine, I had previously inquired about replacing the following: Clutch, Water pump, Thermostat, and alternator while the engine was out. I was also notified earlier that I had a torn CV boot on the driver side front axle. The new engine ended of coming complete with new water pump and all accessories. So I went ahead and authorized the CV Boot, new clutch and also my engine mounts were leaking, so those were to be replaced as well.
At this point total out of pocket expenses were estimated verbally at: $2500.
During the old transmission/engine separation the tech found that the flywheel should also be replaced for an additional cost of $1066. They also said that my throw-out bearing was cracked. The fly wheel took a few more days to come in, delaying the engine installation.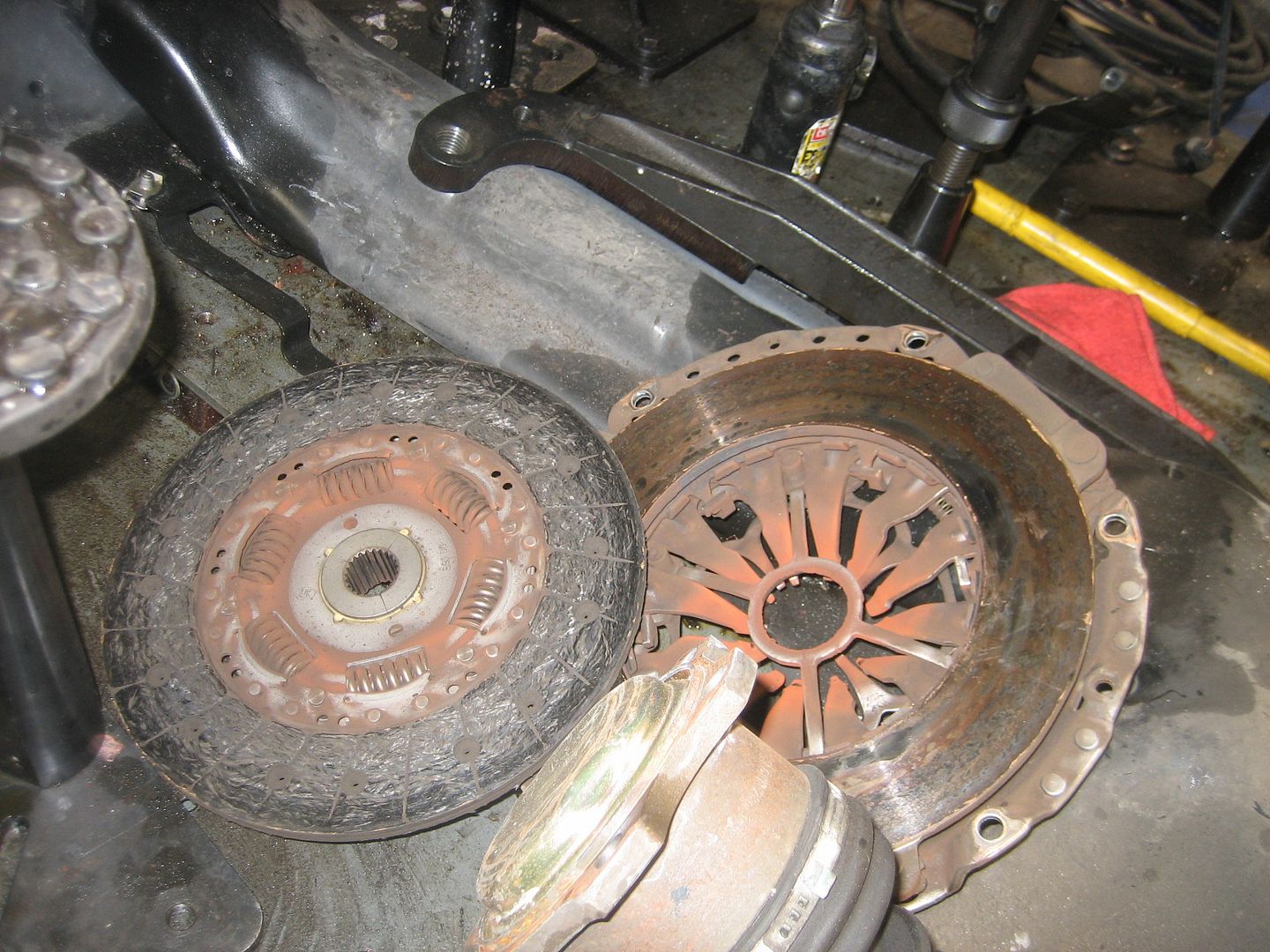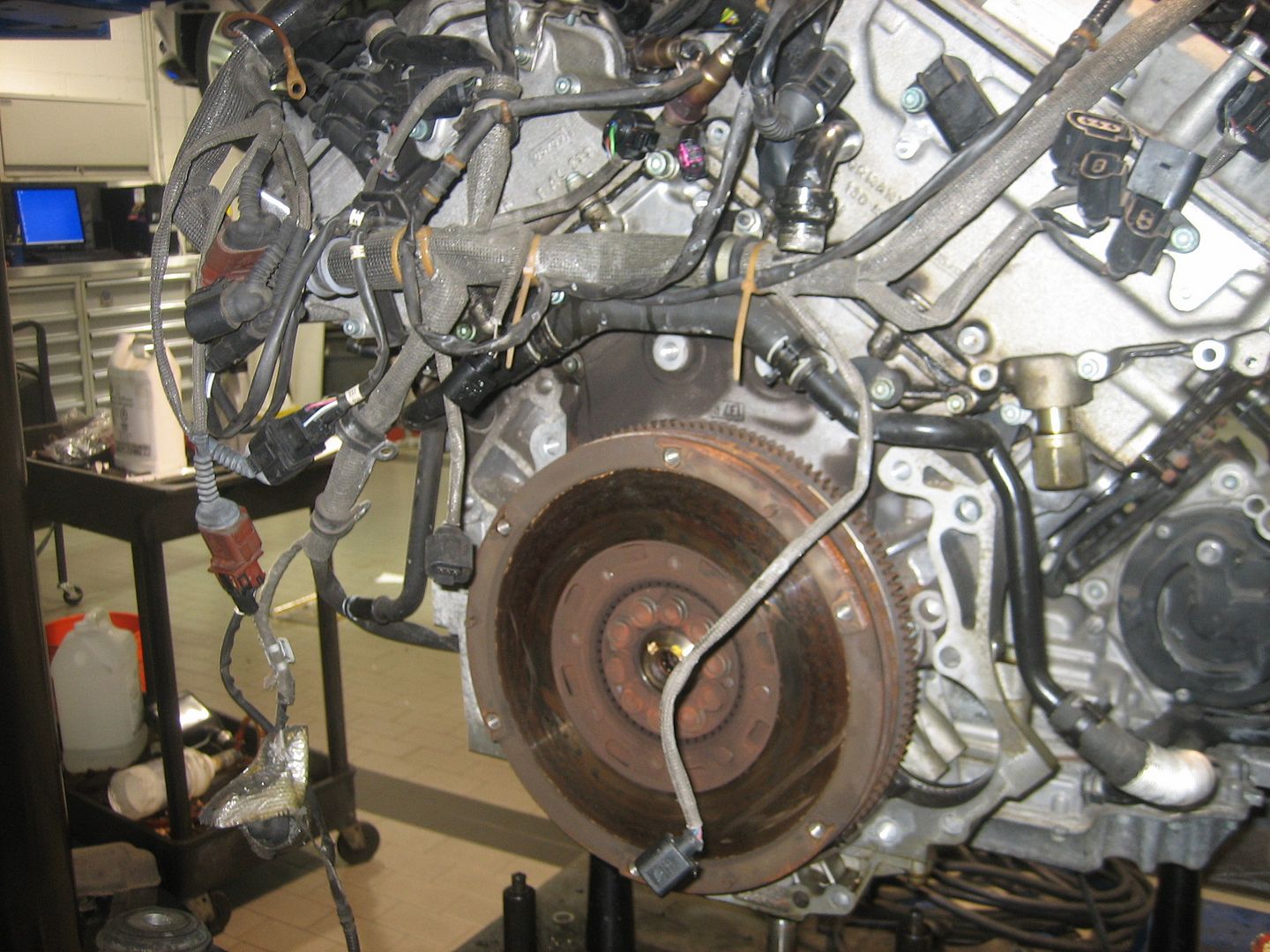 New engine ready to go back into the car: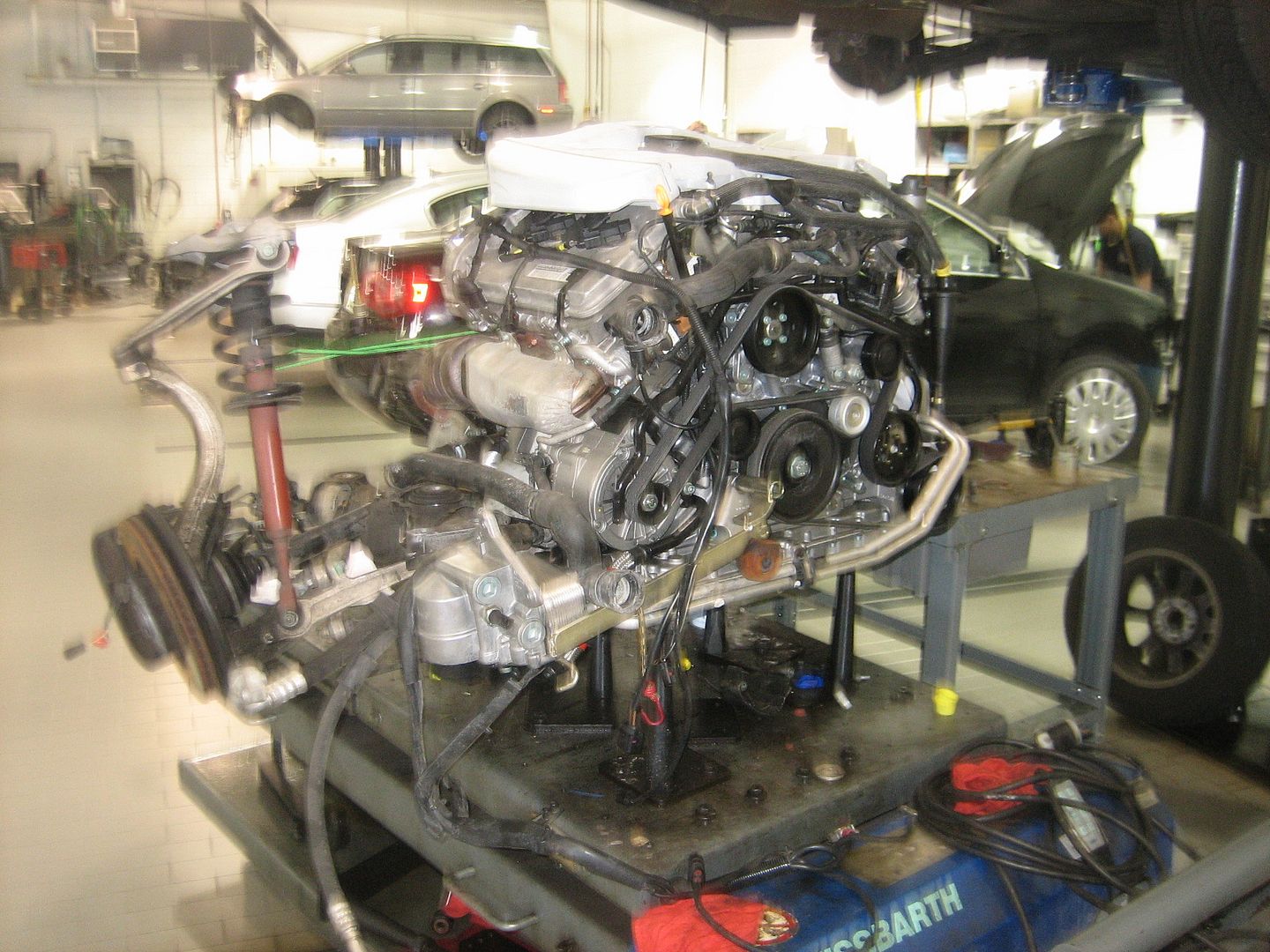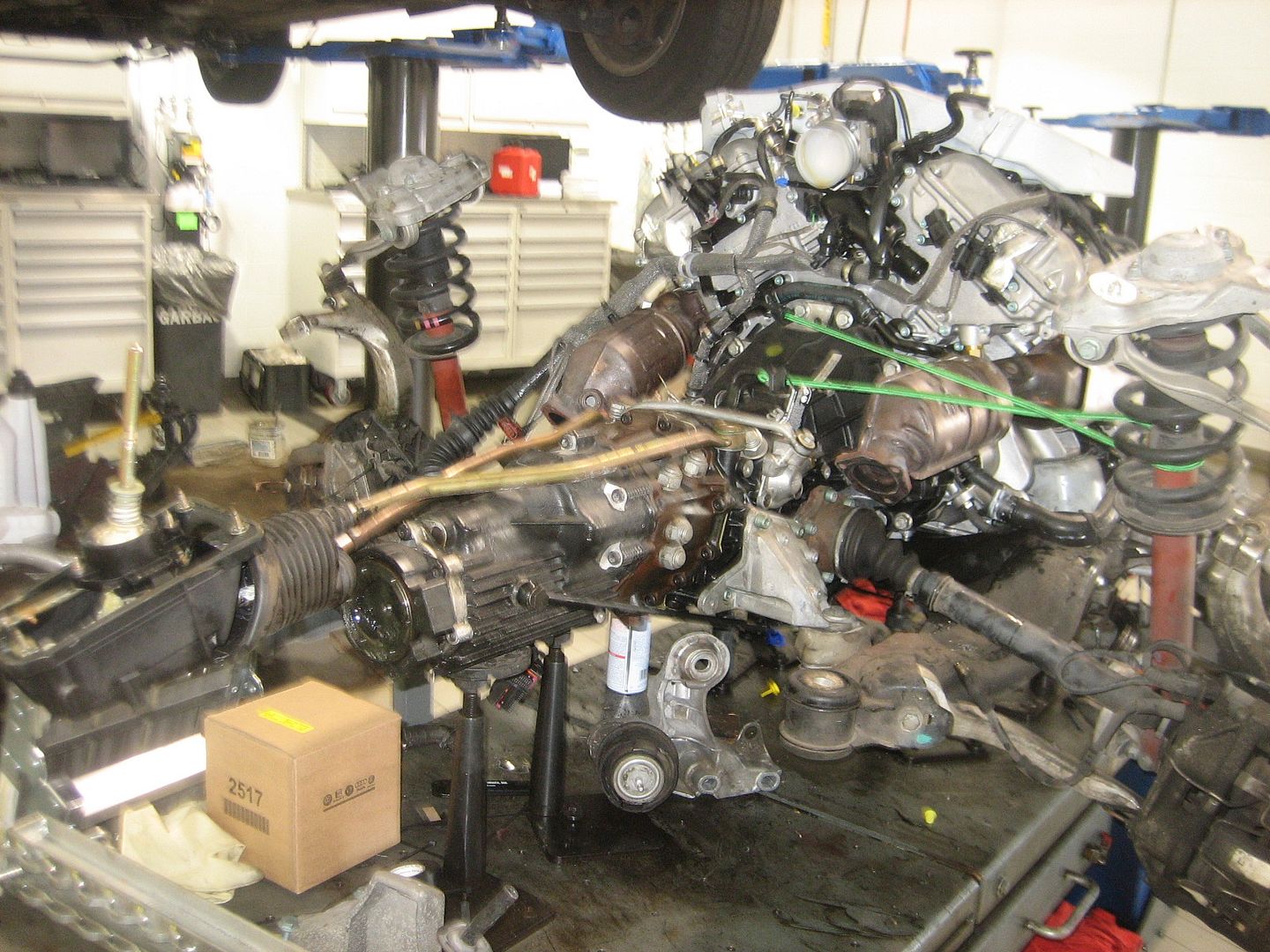 Finally on 12/20/2012, the dealer call to tell me the engine is in the car and running on the lift. They asked if the tech could take it home for a test drive. The next morning they call to tell me the front right axle shaft joint is shot. So Friday morning I go down to the dealer and go for a ride with the tech, sure enough its making a terrible noise. I explain to them, that it was working fine before I took the car in, nevertheless they insist they have done nothing wrong and that, it was just a coincidence. Another $500 added to my repair estimate. Axle should be in on 12/24/12, but because of the Christmas holiday they will not be able to work on the car until Wednesday 12/26, they assure me that the car will be ready for pickup that day. I anxiously waited as I have been told "it will be read on some date" many time before.
12/26/2012: Axle is installed in the morning as I call to confirm that they will be working on my car today. They tell me should be done by the end of the day. At around 3:30PM I stop to see how they are doing, and they tell me they just got back from a test drive. All is well they say. I take the car for a short 5 min drive down the road. Car feels awesome, engine is so smooth! I kept the rpm's below 4k as the engine is new and I am going to take it easy for a bit. But I can't wait to ring the car out a bit. I will also be changing the oil in about 500 -1000 miles.
When I got back from my test drive, they told me to come back in about an hour as they were finishing up my paper work.
At 5PM, I come back they and the service manager is still working on my paperwork. As I am sitting down, they tell me they now have invoice all done:
Total repair bill: $13,422.45
Total parts: $10,641
Total Labor: $2,896.62
FWS covered: $9,192.87
My total out of pocket cost: $4,239.59
Final thoughts:
According to their computer which they showed me; a total of 61 hours were spend on the car, given that I was only charged $2800 for labor, that equates to about $45 per/hr. I also got a lot of new accessories that came with the new engine as well as a brake system flush as a result of the engine needing to come out. Also getting the CV Boot, Axle and clutch all replaced during this process was a lot cheaper than doing them later.
All in all, I was very pleased with how the entire job turned out. The dealership was very friendly and was very willing to assist in the entire process. I really can't fault them at all. I thought there pricing was fair on the misc. parts that were used during the installation. They also gave me discount on many of the parts.
It was a long draw out 3 month experience, that I can now put behind me. It feels good to be back driving a familiar car again.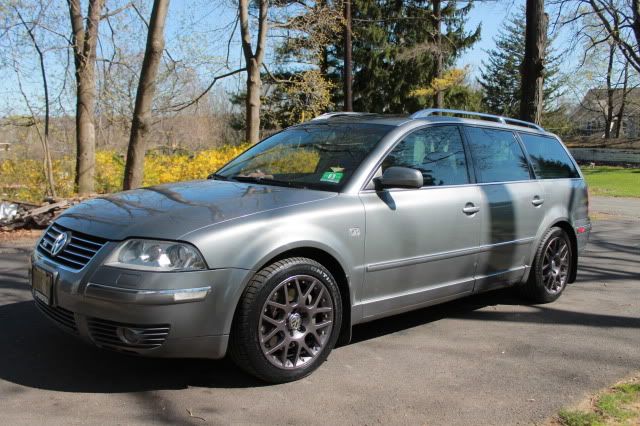 Edited by MRAJB - 30-Dec-2012 at 13:07