lot of questions...
I'll go for a couple:
power steering pump location:
(picture from doubleu8's W8)
I am not sure exactly which one of the two it is, but it is one of the two in the red box - they both look like pumps to me when I tried to figure out component locations - I think it is the bottom one. Off topic a little, the alternator is on the left side and is removed in this picture.
edit: I finally pulled out my Bentley - the bottom component in the red box is the power steering pump. The top one is the AC compressor. On an interesting side note, the AC compressor pulley does not have a clutch.
removing the belly pan is pretty easy, kind of a PITA the first time IMO, but easy once you find all the fasteners, etc. fitzki's oil change write up talks about removing the pan:
http://www.mjg.dk/forum_posts.asp?TID=58
jacking:
I use two floor jacks and two jack stands for jacking the front, with wood blocks cut from 2*4's as "pads" on top of the stands and jacks - I think there are actual jack pads available that would arguably be safer, but I have never had a problem. I jack it up at the jack positions (on the body seem behind the removable plastic skirt piece) The wood keeps the seem from bending, I also lay the grain perpendicular to the seem so the wood does not split. I put the jack stands on the lift points shown in another pic from doublue8's W8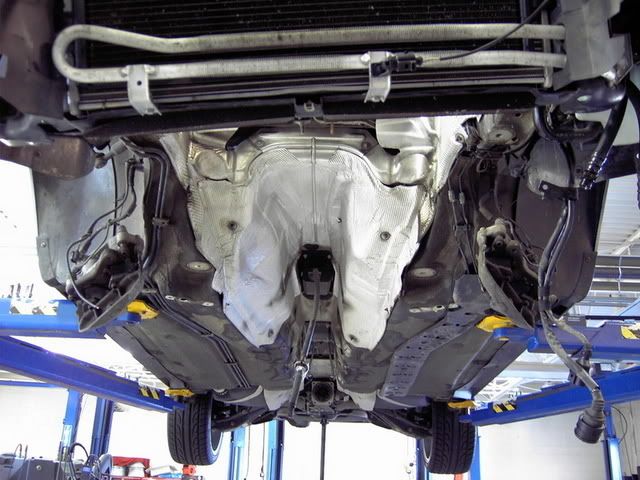 The Bentley does a good job of pointing them out... I think they are self evident once you get down there, they are the only flat spots down there that look like they could support weight. I put weight on the jack stands and try to equalize the weight between the stands and the jacks. I periodically check everything to make sure it is still supporting weight. I know some people recommend putting a tire/wheel under the body too so if the car comes down it doesn't come all the way down, but I've never done this - tire is just one more thing in my way IMHO.
I have put stands under some of the front and rear suspension components before, but with these uni-body cars that make me nervous... jacking up the bronco is easier in that respect... though the 12 inches of ground clearance make it a little harder


Edited by rustybronco - 08-Dec-2007 at 07:52