I have completely removed the locker carrier twice now and put the carrier into service position more times than I can remember. The first time was for the balancer belt, the second time was for the water pump (radiator too, but this could have been done in service position). These could have been done in service position, but is nice to have the carrier out of the way
The only items that actually have to be replaced are the spring/crimp clamps on the hose connectors for the power steering cooler. Perhaps they can be reused, though I replaced them with screw clamps (note the shop manual says to only use spring clamps). Small size clamps, around that of a thumb.
Both times when removing the locker carrier I have left the AC condenser attached and just swung it out of the way. The radiator can be left in the lock carrier along with the cooling fans.
After removing the bumper cover:
Remove metal bumper
Remove head-light washers (I left the hoses connected and just swung them to the left side).
To remove the the carrier the main connections on each side to remove are:
Right side (passenger side in US):
1. upper and lower radiator hoses (after draining radiator)
2. Un-bolt unknown auxiliary pump unit
3. Disconnect horn
4 Disconnect electrical lead to sensor on condenser
Left side:
Bottom Left:
1. Hoses for transmission cooler, bolt connectors
2. Hoses for power steering cooler, crimp-type clamps
Top of radiator:
Coolant hose, spring clamp - re-usable
In front of coolant reservoir:
1. ~4 electrical connectors.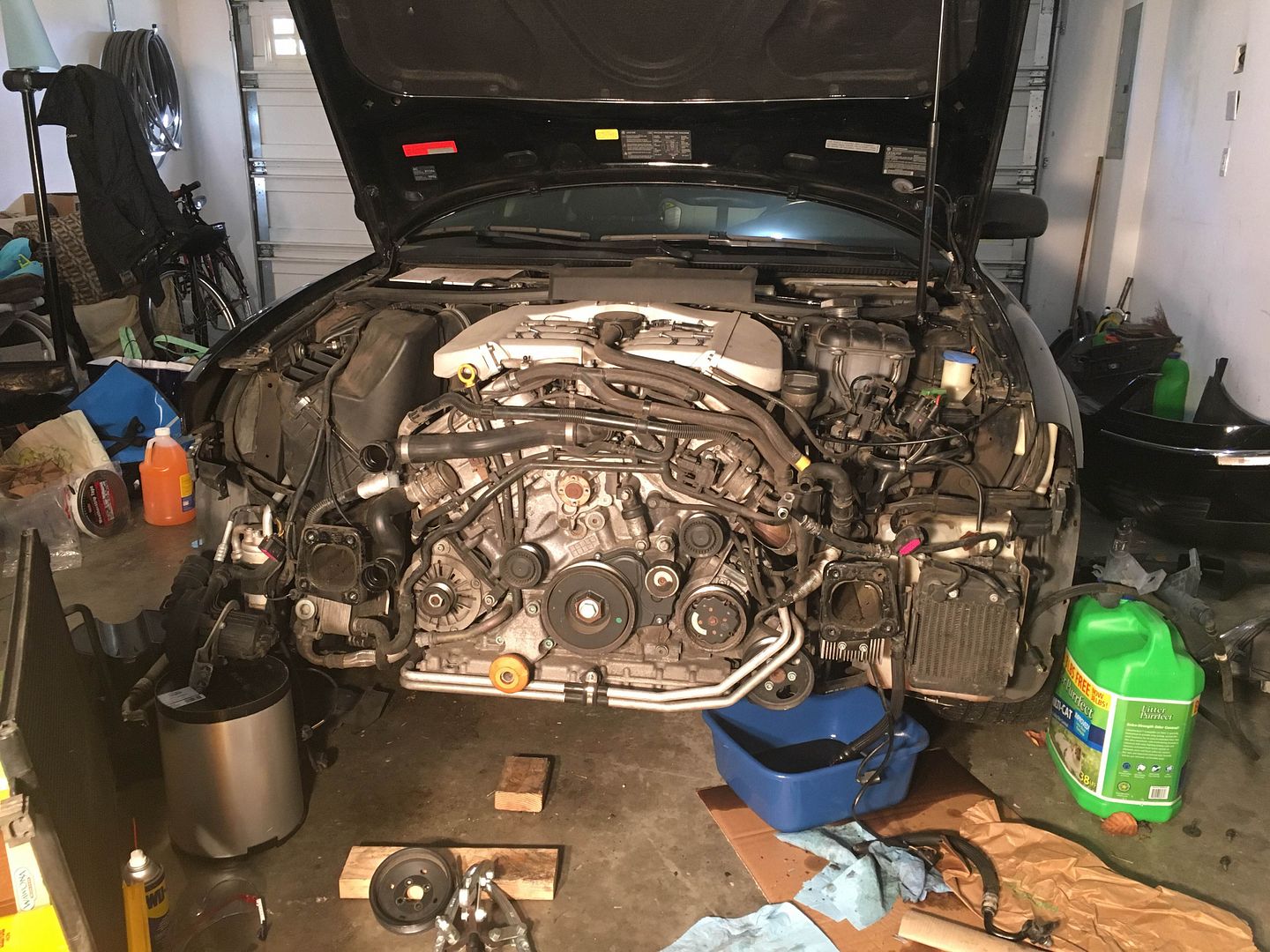 Notice the condenser is supported on a bucket to the left side of the photo.


Edited by rustybronco - 30-Nov-2015 at 07:58